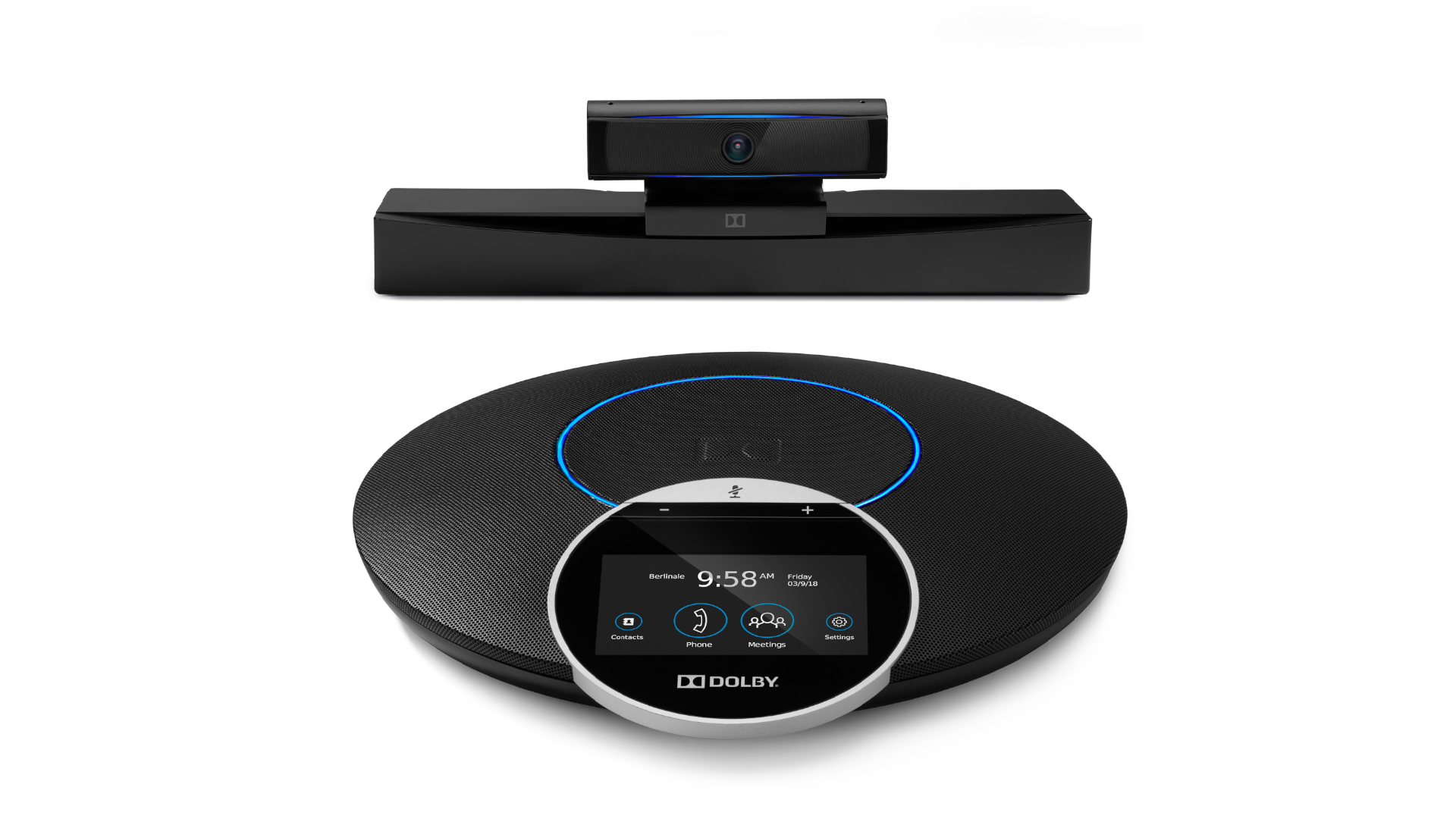 Room
Intelligently adapts to the modern workplace
The premier product in the Rooms with Dolby Voice portfolio, Room combines advanced video features and industry-leading audio technologies in an affordable video conferencing solution that's easy for participants to use and for IT to manage.

Seamlessly integrated with leading service providers, Room is designed to flex across small and mid-sized meeting spaces, giving everyone a natural meeting experience to enable what's truly important — the human connection.
Room is ready for your meeting spaces and common use-cases, right out of the box with a simple plug and play set-up. It is easily supported by modern IT environments.
Specifications
Dolby Voice camera
Image sensor: 4K, 13
View angle: 95°
Lens: fixed focus f/2.0
Connectivity: USB 3.0
Mounting: tilt range +/–20°
HDR video mapping EPTZ capable
Intelligent scene framing
Whiteboard mode
Video
Output resolution:1080p
Frame rate: up to 60fps
Codecs: H.264 Baseline and High Profile, VP8
Dolby Conference Phone
Operating Modes: Dolby Voice, IP phone
Service provider integration: IP connection and pre-configured access to Dolby Voice enabled conferencing services
Touch screen management:
One-touch meeting start with Bluetooth Lowe Energy (BLE) connection on supported partner apps
Viewable roster of meeting attendees and active speaker, add/remove participants
Contact directory with one-touch dialing
Mute/unmute, three-way conferencing, conferencing join/split/hold/resume, call waiting, call history
Audio
Features: Full duplex, noise suppression, acoustic echo cancellation, voice placement
Codecs: DVC-2/G.711a/G.711u/G.722/G.729ab/Opus
Audio range: Wideband HD, 160Hz-8kHz
Microphone range: 6.1m (20ft)
Peak volume: 88 db APL T ½ meter (1.6 ft)
Dolby Voice Hub
OS: Linux
Monitor support: Dual (x2) display out ports
Content sharing: Display in port-local/ broadcast and wireless sharing through partner apps
USB: USB 3.0 host ports (x3), USB 3.0 port
Network: 10/100/1000 mbs (RJ-45) network interface
Network provisioning
IP address configuration: TCP/IP (IPv4), DHCP/ static IP
Web: HTTP/HTTPS web server, web proxy auto-detection and proxy auto-configuration
Support: WebRTC
Time and date synchronization: SNTP
VLAN support: Dolby Voice and IP telephone calls on separate voice and data VLANs
QoS support: IEEE 802.1p/Q tagging (VLAN), Layer 3 TOS and DSCP
Compliance
This product complies with the European RoHS Directive 2011/65/EU including amendment (EU) 2015/863.