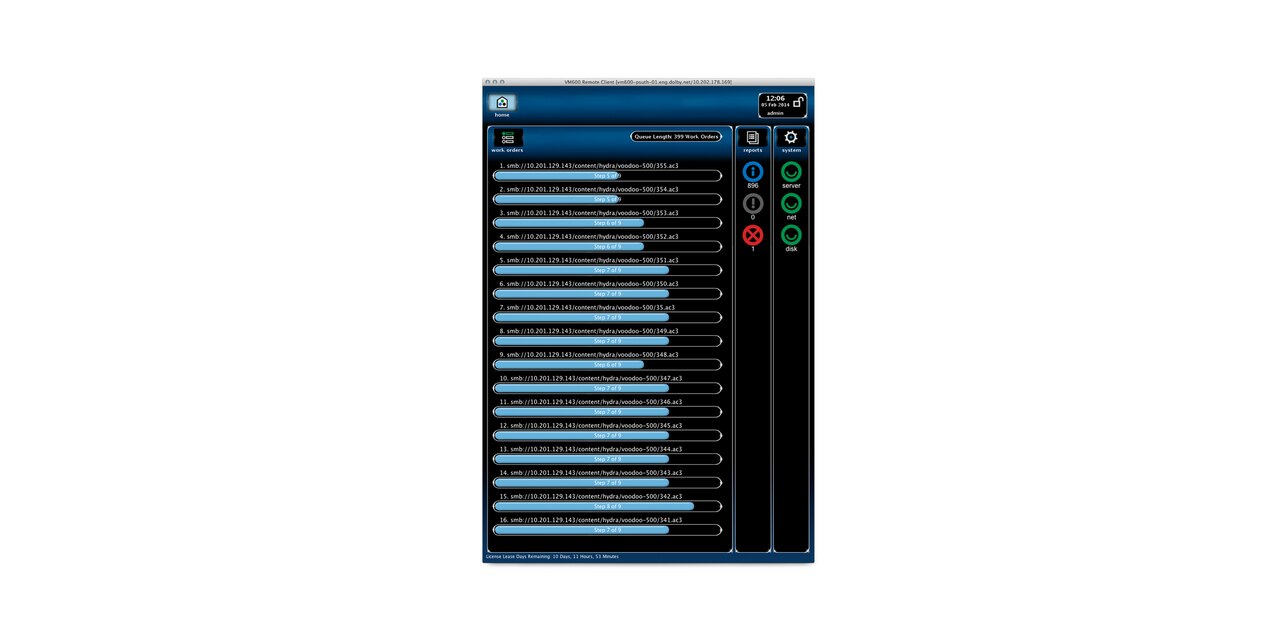 Workflow Automation
The software counterpart of the versatile Dolby® DP600 and DP600-C hardware platforms, the Dolby Program Optimizer VM600 can simplify and automate your broadcast workflows. We designed it specifically for cable, satellite, IPTV, terrestrial TV, OTT, radio, and postproduction facilities.
Loudness Law Compliance
Responding to consumer concerns, many countries regulate broadcast loudness. The Dolby VM600 offers you a simple, effective, and scalable way to ensure compliance with CALM and with EBU loudness laws.
Comprehensive Processing Capabilities
The Dolby VM600 can encode, decode, convert, or transcode audio between a number of popular file formats alone or within media containers, using your own virtual infrastructure and storage systems. It can encode Dolby Atmos® content, and it also includes a high-quality single-step Dolby Digital to Dolby Digital Plus™ transcoder that preserves the metadata and minimizes tandem coding losses.
Specifications
Media File Formats Supported
GXF (SMPTE 360M), including single programs spanned over up to five files
MXF operational patterns per SMPTE 390M (OP-Atom)
SMPTE 378M (OP-1a)
SMPTE 391M (OP-1b with internal essence file formats only)
MXF container (essence) support per SMPTE 379M (GC)
SMPTE 381M (GC-MPEG)
SMPTE 383M (GC-DV minus support for audio essence interleaved in DV)
SMPTE 382M (GSC-AESBWF)
SMPTE 386M (IMX with D-10 audio)
MPEG-2 program stream
MPEG-2 single program transport stream (multiple audio essences supported)
Media Server Platforms Supported
Omneon® MediaDeck™ v6.3, Harmonic® Spectrum™ v6.3
Linear Audio Types Supported
WAV, including multiple mono, broadcast, and multichannel WAV files with or without a Dolby audio metadata WAV chunk, as interleaved or discrete
AIFF, including multichannel as interleaved or discrete files
16-, 20-, and 24-bit PCM (within any of the listed media file formats above)
Coded Audio Types Supported

Dolby Digital Plus (E-AC-3), Dolby Digital (AC-3), Dolby E, MPEG-1 LII
Additional Processing Engines Supported 

Dolby Pro Logic II encoding

Proprietary two-channel to 5.1-channel upmixing
Loudness Estimation/Correction Algorithm(s)
Dialogue Intelligence™, patented
Proprietary coded audio loudness correction algorithm, patented
ITU-R BS.1770-1, ITU-R BS.1770-2, ITU-R BS.1770-3, ITU-R BS.1770-4
EBU R128 audio loudness measurement
Loudness logging: Short-term, long-term, sample peak, true peak, dialogue level, integrated (non-dialogue) level
System Requirements
The Dolby VM600 runs in a virtual machine environment and can be deployed in either VMware® vCenter clustered servers or as a stand-alone virtual machine with the VMware Workstation™ application.
File System Protocols

FTP, SAMBA/CIFS, and SFTP
Third-Party API

Provided as a web service utilizing Simple Object Access Protocol (SOAP) over HTTP
Customer support
Get support
Get help about professional products or services.
Contact us
Send us your questions or feedback.