Dealer Testimonial — Bardan Cinema
{{ videoLinkButton.text }}
{{ videoLinkButton.text }}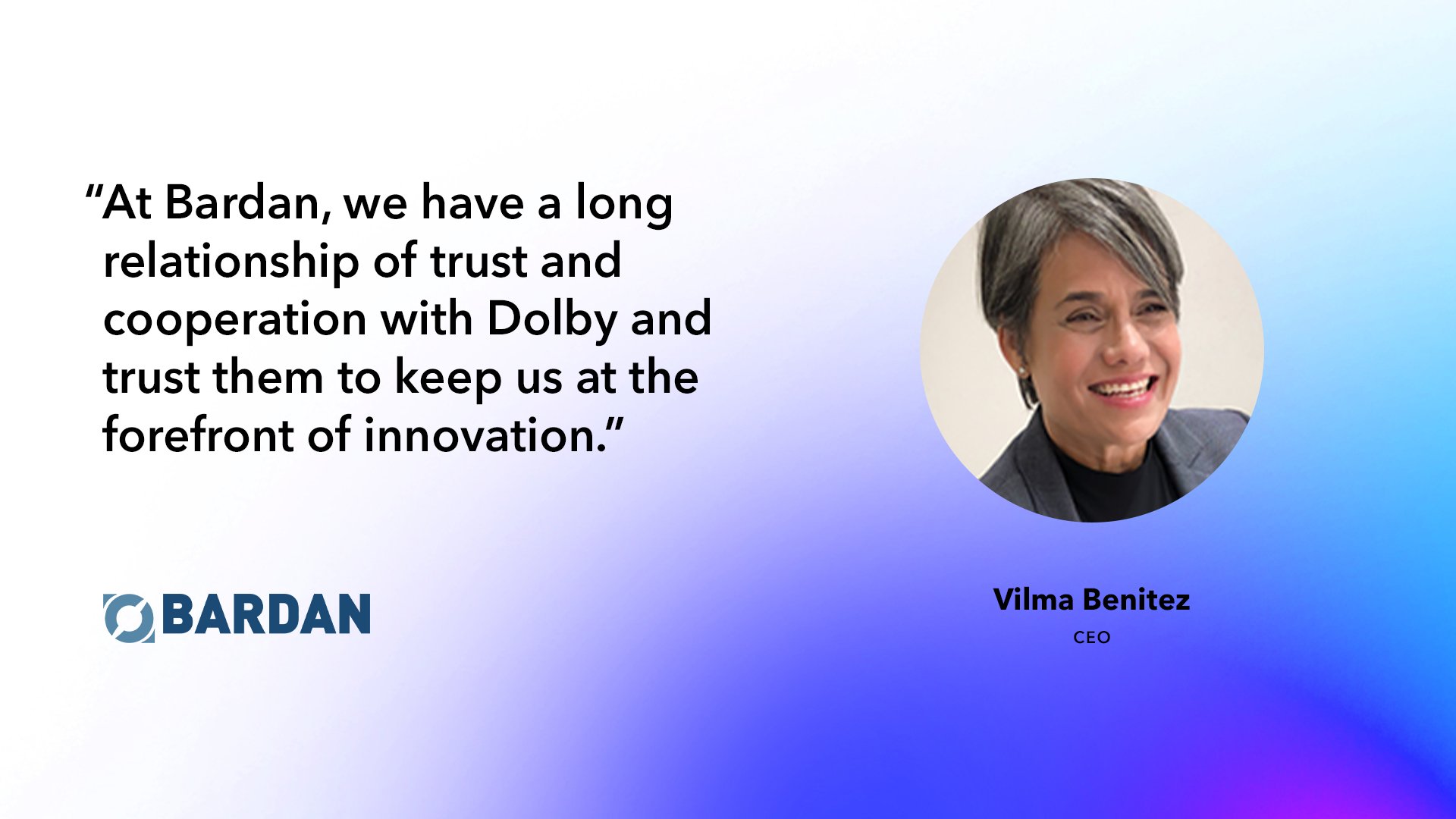 Vilma Benitez is the president and CEO of Bardan Cinema. Started in 1977 by Vilma and her husband, she now runs Bardan with her children and a close-knit, loyal team. Based out of Miami, Florida, Bardan Cinema is an integrator and supplier to large and small cinema exhibitors located throughout Latin America, the Caribbean, and the U.S. During the last 44 years Vilma has seen a lot of change in the industry, but the company's core principles remain the same. "One thing never changes: the customer's needs are paramount! From the beginning to the end of any project, we focus on customer empathy, always striving to understand their needs and constraints so that we can design a system that will provide them with the most benefit for the best price!" This is where Dolby's commitment to innovation and service truly shine as a partner with Bardan: with customized packages matching the newest in cinema audio to the needs and budget of every exhibitor.
The importance of integration
"The costs of servicing and maintaining cinema equipment can be high, but these expenses can be significantly mitigated if you design a highly integrated system, using equipment that have been built keeping integration with other technologies in mind," as Vilma points out. "By deeply integrating its own products and maintaining cross-compatibility with other brands, Dolby has done an excellent job of driving down the cost of cinema equipment maintenance over time."
But for her customers, taking the plunge is not always so easy. They want the products they purchase to last long enough for them to earn a return on their investment. Some manufacturers are not around long enough which means that the exhibitors are unable to extend the use of the equipment they buy from those manufacturers.
Over the years, Dolby's stable position in the market as well as their integrated approach have proven to be something both she and her customers can rely on.
"At Bardan, we have a long relationship of trust and cooperation with Dolby and trust them to keep us at the forefront of innovation. Their efforts to provide quality audio products with manageable, minimal service requirements are part of their commitment to excellence. Their system integration, both internally and with equipment from other brands is a large part of that commitment. They understand that each cinema system presents its own unique challenges, and that the ability to integrate across a wide variety of manufacturers' equipment is a great benefit Dolby offers their customers."
Vilma and her team tailor packages to best fit their customers' needs, and when it is time to reinvest in their cinemas, Dolby Auditorium Packages are the logical choice given that they offer a bundle of cinema products at considerable cost savings and have an optional, low-cost extended warranty.
Support = success
Vilma's team works with exhibitors that have challenging needs. "During the push for conversion to digital projection, there was significant pressure from the studios to quickly convert theaters to their new format, for which they already had significant content. At times, the demand was for a cinema complex to be converted every month… The conversion of the region had to be done quickly, but also with the highest standards of there would be significant financial risk for the customer."
Challenges such as these are why Vilma finds working with Dolby to be so advantageous. Given its reliability, emphasis on education, and robust customer service, she knows that she can handle unforeseen and sudden changes to the business landscape with Dolby by Bardan's side.
For Vilma's customer base, education is key to staying online with as little downtime as possible. Over the years, Dolby has taken steps to erase the barriers to education that some cinema owners face by providing tutorials and hands-on explanations of their technologies and how to use them through their localized customer support. She is impressed with the library of educational videos Dolby provides to help their customers optimize the use of their product. "Dolby provides some of the best educational content in the industry" she says.
Dolby Auditorium Packages are backed by Dolby's own global customer support team who help customers with every aspect of the technology. What's more they do so in the local language and time zone. No more late night calls across time zones or struggling to be understood in a foreign language.
Dolby: a valuable partner
With every moment spent waiting on a product costing the customer money, Vilma appreciates Dolby's reliability and logistical precision.
"Turnaround is very quick with Dolby — any delay in customer service response is severely detrimental to the customer's operation Dolby maintains plentiful and accessible inventory, so there is no delay in our response to customer issues. There are significant logistical challenges to working in our region, and in a business like cinema, even minor delays and downtime can become extremely costly"
Because Dolby Auditorium Packages are quality tested in multiple configurations in Dolby's own engineering labs to ensure the highest quality and reliability. This ensures the products provide the best cinema performance.
"With Dolby's clockwork operations infrastructure, we know exactly by how many days we can get a part back and get it replaced onsite."
Asked to sum up the difference the Dolby team brings Vilma had this to say, "I can sum it up in one word: 'respect'. Dolby respects our contribution to each and every project, and to the industry as a whole. They respect the customers' needs and wishes, and in turn they help create the solution that is best suited for the customer, and for Bardan this is the highest priority: bringing the customer the best solution."
Dolby has put itself "in the leadership position of innovation" by listening closely to what exhibitors need and building products that best address those needs. Their latest bundled offering, Dolby Auditorium Packages, not only reduces costs but comes with an extended warranty and global customer support. What's more it can be tailored to the size, and budget, of any enterprise – large or small.
"We work in a cost-driven industry," Vilma says. "We partner so closely with Dolby because with them we are able to create equipment packages for customers that fit their needs, their budgets, and their desires to be at the forefront of cinema technology. It's a win-win partnership!"