Calrec makes live Dolby Atmos mixing easy
{{ videoLinkButton.text }}
{{ videoLinkButton.text }}
Dolby Atmos takes live broadcasting to the next level through immersive three dimensional moving audio that has the power to make fans feel like they're at the event. From major worldwide live events and local sports to film and TV shows, broadcasters and streaming services are choosing to deliver their premium broadcast and streaming entertainment in Dolby Atmos. This allows them to provide the ultimate home audio entertainment experience for their customers.
Services that support Dolby Atmos content delivery are widely available around the world and have started delivering Dolby Atmos content of all kinds. And with more and more devices enabled with Dolby Atmos becoming available, including TVs, soundbars, laptops, smartphones, and smart speakers, the demand for this content is growing rapidly. This is particularly true in Western Europe where forecasts show that by the end of 2021, 30% of all 4K UHD TVs shipped will support Dolby Atmos playback. This rapidly growing availability is driving increased customer awareness and demand. The future will see Dolby become the guaranteed must-have for the best immersive experience possible.
For broadcasters, live content is crucial, and live sports are especially important. For live sports broadcasts, the value of producing in Dolby Atmos has been clearly demonstrated and embraced by broadcasters and customers globally. In the US, NBC has been producing leading sporting events in Dolby Atmos since 2016. In Europe, key sports have been broadcast in Dolby Atmos since 2017, including all top tier football matches in the UK, as well as sports like cricket, basketball, boxing, tennis, and a host of other events, like e-sports, live music concerts & European singing competitions.
Many veteran mixers have had the opportunity to work with Dolby Atmos and have been clear that it enables them to do things they were unable to do before and to create amazing live immersive audio mixes. For example, Josh Daniels, audio mixer for NBC and the NHRA, said: "Mixing in Dolby Atmos heightens the experience of live television production. I enjoy being on the cutting edge of technology and with Dolby Atmos that's exactly where you're at. Mixing NHRA Drag racing has been a great experience for me and being able to do that in Dolby Atmos has given me a better appreciation for what I do. I'm trying to bring people that punch that nitro cars deliver on every pass. Being part of creating and developing technology that pushes us to the next step is an amazing feeling."
But while it is great that many of the world's biggest live broadcast events have been produced in Dolby Atmos, the growing demand for live content means that live Dolby Atmos content will be needed across all tiers. This requires the ability to scale the number of people who have been trained to create great live broadcast content. And while there are many post-production mixers trained to create Dolby Atmos content for film and TV, creating live broadcast mixes is another thing all together and it requires another set of skills.
"For live broadcasts, all the Dolby Atmos work is done in real time in the mixing desk rather than in post-production; there are no retakes in live TV so mix engineers have to get it right the first time, as well as create additional outputs for host and international mixes, plus surround, stereo and mono versions!" says Henry Goodman, Calrec's Director of Product Development.
This means that as the demand for live Dolby Atmos content grows, so does the need to teach more and more broadcast mixers how to create great immersive mixes for all levels of broadcast content, from major tent pole sports events to local broadcast events, like minor league and local sports. To create all the content needed, it will be necessary to train both experienced live broadcast mixers as well as up-and-coming mixers who are just now starting their careers. And this training needs to be easy to access remotely and not require extensive facilities to deliver.
To address this challenge, Calrec and Dolby worked together to create a free online training course on live immersive mixing in Dolby Atmos for the Brio console. The Brio is known for its ease of use and with this training course broadcasters, freelance mixers and education institutions will be in the position to make live broadcast mixing in Dolby Atmos easy.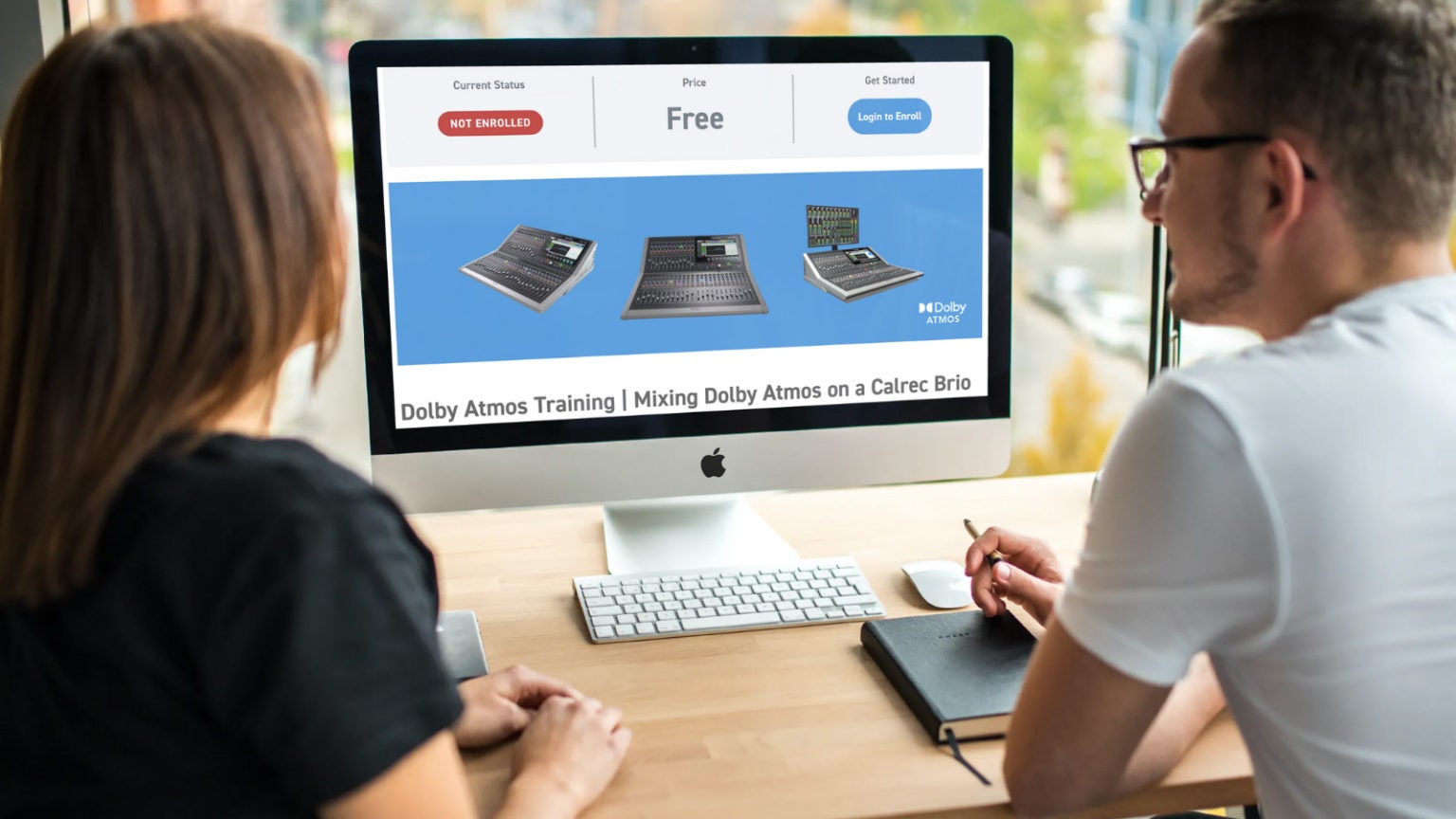 This free course, available at Calrec.com/calrec-sound-institute provides the fundamentals of creating live broadcast mixes and will be a great way for mixers to jumpstart their education on how to create live immersive audio with Dolby Atmos. It was created for Calrec's Sound Institute and is designed to demonstrate how operators can create and monitor immersive mixes with a variety of inputs quickly and easily, both in-venue and remotely.
The training course has three modules that cover the following:
What is Immersive Audio and the difference between object and channel-based mixing
How to Mix Dolby Atmos on a Calrec Brio: Set Up & Fader Layout
How to Mix Dolby Atmos on a Calrec Brio: Monitoring
With this course, experienced broadcast mixers will be able to easily learn how to move from stereo and surround sound mixing to immersive Dolby Atmos mixing. This training provides a foundation for educational institutions to create their curriculum that will prepare their students to support immersive mixing as they start of their careers.
Calrec Audio has seen many recent installations of its consoles and audio networking solutions in educational establishments and the Brio range has become a go-to console solution in this space for various reasons, including its small form-factor, power, and cost-effectiveness; and the fact that it delivers the same high-quality broadcast sound, that is available on its larger consoles. To that end, the Brio is ideally positioned in terms of size and budget to provide students with hands-on experience using industry-standard tools and with this training available we hope to see those institutions that have deployed this solution, leveraging this training to add Dolby Atmos immersive mixing education to their curriculums.
As live broadcast sports broadcasts come back in full force and embrace Dolby Atmos to deliver immersive audio creation, there will be a groundswell of demand for creatives who can bring consumers great immersive audio experiences. For this reason and more, training and education have never been more important. This free training will go a long way to helping our industry partners find the trained live broadcast mixers they will need to leverage Dolby Atmos and create a whole new level of consumer excitement about broadcast audio. To learn more about the training session please click below.