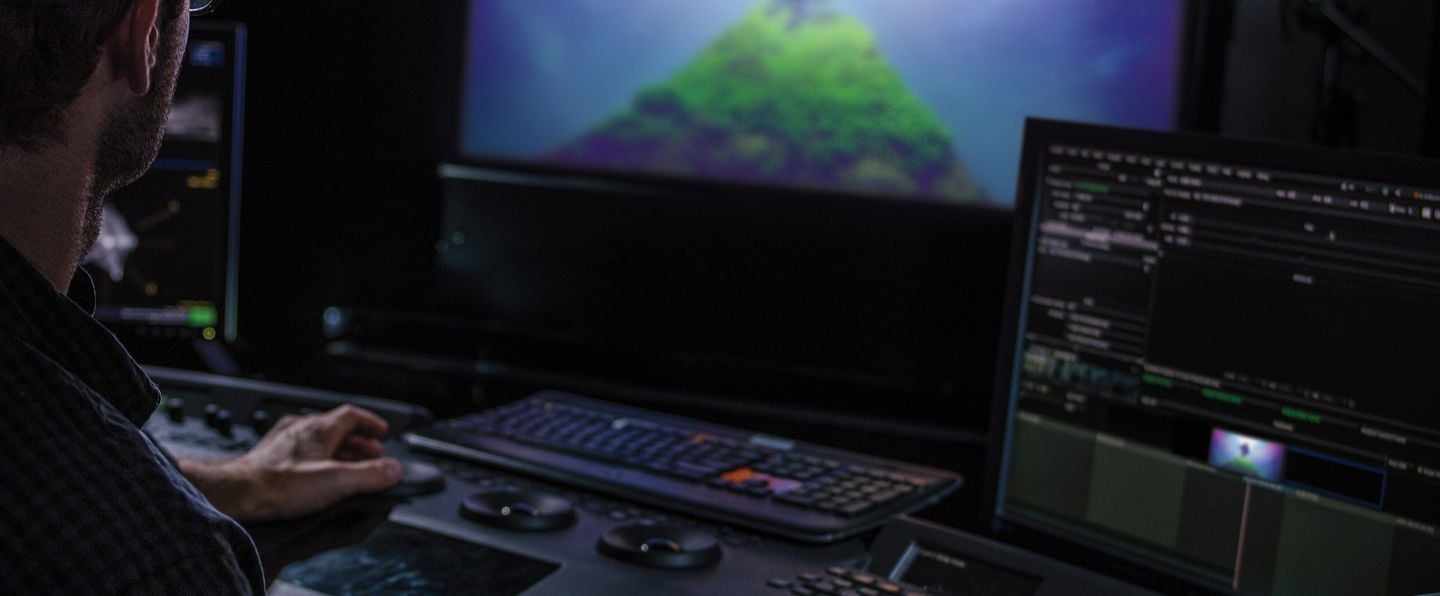 Dolby Vision for content creators
A new era of storytelling
The transition from standard dynamic range to high dynamic range (HDR) is as revolutionary an improvement to video as the transition from SD to HD or from black and white to color.
We're finally able to deliver the amazing images that modern digital cinema cameras have been able to capture for years. But this technology brings with it new challenges that disrupt familiar workflows and complicate the ability to deliver a consistent look across a multitude of consumer devices.
Dolby Vision® post-production tools and workflows give you what you need to efficiently create both HDR and legacy SDR content and ensure that the look you create in the color suite stays true when experienced across TVs, PCs, tablets, and mobile devices.
Create the best HDR experience
Reveal extraordinary color
Dolby Vision delivers more accurate, lifelike color than standard dynamic range and generic HDR. Punch out bright blue skies without losing details In the clouds. Saturate color without clipping like never before. Minimize banding beyond the limitations of HDR10 thanks to 12-bit support.
Bring new depth to your content
With Dolby Vision high dynamic range imaging, you get detailed highlights, deeper blacks with incredible contrast. This results in greater sharpness, depth and detailed shadows to expand your storytelling possibilities like never before.
Your grade, delivered across all devices
Viewers consume content across a multitude of devices — TVs, tablets, PC and mobile — all with different brightness capabilities and color performance. To overcome the challenge of mastering for these variables, Dolby Vision best delivers the artistic intent as set in the HDR reference master through Dynamic Metadata. With Dolby Vision, the colorist is further empowered to create trims for each shot to control how the content maps to the consumer devices. This provides confidence to content creators that their images are represented on all devices with ultimate consistency.
The best viewing experience — for today and tomorrow
When you master content in Dolby Vision, you maintain the full dynamic range of the images and map it to the capabilities of today's TVs. So, when future generations of devices surpass what's available today, your Dolby Vision content will map correctly, maintaining your look and never stretching your content.
Save time and money
Using the Dolby Vision workflow, you can master once to create all of your deliverables. Grade your content with the most advanced HDR toolset and efficiently generate Dolby Vision HDR, generic HDR10, and SDR media.
| | | | |
| --- | --- | --- | --- |
| | DOLBY VISION | GENERIC HDR | SDR |
| Bit depth (higher bit depth = less color banding) | 12 bit (4096 shades per color) | 10 bit (1023 shades per color) | 8 bit (256 shades per color) |
| Color gamut | P3 up to Rec. 2020 | P3 up to Rec. 2020 | Rec. 709, BT 1886 |
| Mastering luminance | 1,000 min. up to 10,000 nits | Typically 1,000 nits | 100 nits |
| Scene-based metadata | | | |
| Per-target artistic trims | | | |
Customer support
Dolby business partners
Log in to the Dolby business partner portal to find tools, warranties, and policies.
Create your Dolby Vision grade, with your tools
Create your Dolby Vision master grade using your existing color-grading workflows.
The color-grading workflow for home
The mastering and QC workflow for home
Create all your high-quality deliverables using the Dolby Vision master grade. Once the color grading is complete, you export the final grade in the highest image quality, typically a 16-bit TIFF or other uncompressed image container and the accompanying Dolby Vision dynamic metadata as an XML file.
These archive masters are then imported into a Dolby Vision mastering tool to create the mezzanine file (or service master). Mezzanines are typically stored in a JPEG2000 or ProRes 4444, 4444XQ image container. For this process, you can use the Dolby Professional Tools, or supported third party mastering solution.
Professional video tools for Dolby Vision
After the mezzanine is QC'ed by decoding the image and metadata to a target reference display, it's ready for Dolby Vision encoding by compatible encoder which generates a Dolby Vision HEVC bitstream. This process is usually completed by the studio, streaming service, or third party encoder that's compatible with Dolby Vision.
The mezzanine can also be rendered to other stand-alone deliverables like generic HDR and SDR Rec. 709 versions, as well as IMF/IMP deliverables, all based off your Dolby Vision mezzanine.
Customer support
Dolby business partners
Log in to the Dolby business partner portal to find tools, warranties, and policies.
Bring Dolby Vision to your master suite
Unlock the most powerful, comprehensive HDR mastering tools in your professional color-grading system with a Dolby Vision license.
Full Dolby Vision mastering and playback annual license
Analysis and artistic trim metadata creation
A Dolby Vision® license enables supported systems to activate full Dolby Vision capabilities with trim controls.
Software tools provided by Dolby
Dolby Vision professional tools
CMU software for externally connected CMU's, for real-time monitoring of Rec. 709 and other targets
Offline Content mapping (cm_offline), a software tool for rendering Rec. 709 and other deliverables
Analysis generator (cm_analyze), a software tool that can create Dolby Vision shot or frame-based analysis metadata from a HDR10 deliverable
Mezzinator, a software tool for creating Dolby Vision mezzanines
Metafier, a software tool for managing, editing and verifying XML metadata
Dolby Vision annual mastering and playback license
Authorizes color-grading system to enable Dolby Vision artistic trim controls and connection to an external CMU
Optional from Dolby: Dolby Vision facility certification (annual)
Includes full Dolby Vision installation, commissioning, and training as well as use of Dolby Vision logos and trademarks to promote your facility and its capabilities. In addition, participate in co-marketing (including a listing on Dolby.com as a certified Dolby Vision facility)
Optional from Dolby: Dolby Vision annual mastering projector lease
12-month lease of Dolby Vision laser projector for cinema grading with installation, service, and support.
For more information contact us.
Required materials not included
Content Mapping Unit (CMU) hardware (optional in some cases)
The CMU process is either internally integrated in Dolby Vision compatible third-party tools or is software that runs on specified external hardware and is required to fully enable Dolby Vision functionality. The hardware is not included and can be purchased separately from an authorized system integrator.
Authorized CMU System Integrators:
Dolby Vision compatible color-grading systems:
Professional reference monitor
For color-grading we recommend a professional reference monitor with the minimum spec as shown below:
Supports PQ or SMPTE 2084
Minimum peak brightness of 1,000 nits (cd/m2)
Minimum contrast ratio of 200,000:1
Minimum color gamut of DCI P3
Dolby Vision ecosystem solutions for editorial and QC
Customer support
Dolby business partners
Log in to the Dolby business partner portal to find tools, warranties, and policies.
Dolby Vision Training and Certification
With the growing demand for Dolby Vision content worldwide, gaining a deep understanding of the Dolby Vision tools and workflow has never been more important. There are several options and resources for you to learn how to create your content in Dolby Vision.
Dolby Institute Self-Guided Online Training (Free)
With our self-guided educational resource from the Dolby Institute, you can work at your own pace and focus on and revisit the modules that are most relevant to you. The content is the same as the full live instructor-based curriculum, but using videos, graphics and text pages with built-in logical breaks as well as testing, to make sure that you've understood the key concepts.
Live Online Training with a Dolby Instructor (Coming soon)
Previously only available to Dolby Vision Certified Post Facilities, you, as an individual can now get the nearly 8-hour, in-depth Dolby Vision training with a Dolby instructor, in a small group, for only $400. (Available in English or Spanish.) The program includes:
Module 1: Dolby Vision and HDR Theory/Overview/Workflow - 2.5 hours
Module 2: Color Grading (with Davinci Resolve) - 2.5 hours
Module 3: Mastering, Deliverables, and QC - 2.5 hours
Dolby Vision Individual Certification (Coming soon)
Whether you are a colorist or engineer, finish off your Dolby Vision training experience by becoming a Dolby Vision Certified individual for $ 250. This involves passing both an online multiple-choice test and a practical test where you download a color-graded HDR file/EDL, add the Dolby Vision metadata and package up as a Dolby Vision IMF to submit to a Dolby Instructor. Once passed, certified Individuals will be allowed to use a Dolby Vision Certified logo on their website or email signature and be listed here on Professional.Dolby.com.
Dolby Vision Certified Facilities
The Dolby Vision Facility Certification program has closed for new applications in most countries as we have transitioned to the new individual training and certification. A Dolby Vision Certified Service Provider is a professional post facility that has met the following requirements:
The Dolby Vision systems have been commissioned by a Dolby engineer
All equipment and processes meet the Dolby Vision specifications
The colorists, engineers, and operators have been trained by a certified Dolby instructor
North America - West
COMPANY

ADDRESS

PHONE

SERVICE

280 E. Magnolia Blvd.
Burbank, CA 91502
USA

+1-818-863-8900

Mastering for Home

3BMG
3650 Redondo Beach Ave.
Redondo Beach, CA 90278
USA
+1-424-236-7588

Mastering for Home

2308 Broadway
Santa Monica, CA 90404
USA

+1-310-586-0650

Mastering for Home

ADS Hollywood

3575 Cahuenga Blvd. West Suite 605
Los Angeles, CA 90068
USA

+1-323-468-2200

Mastering for Home

2014 Broadway
Santa Monica, CA 90404
USA

+1-424-280-4300

Mastering for Home

6255 W. Sunset Blvd. Suite 1515
Los Angeles, CA 90028
USA

+1-323-978-7878

Mastering for Home

1603 Shoal Creek Blvd.
Austin, TX 78701
USA

+1-713-806-9441

Mastering for Home

4146 Lankershim Blvd.
Toluca Lake, CA 91602
USA

+1-818-843-5376

Mastering for Home

5670 Wilshire Blvd. Suite 220
Los Angeles, CA 90036
USA

+1-323-300-5085

Mastering for Home

2901 W. Alameda Ave.
Burbank, CA 91505
USA

+1-818-940-3200

Mastering for Home

3401 Exposition Blvd.
Santa Monica, CA 90404
USA

+1-310-255-6600

Mastering for Cinema and Home

2644 30th Street, Suite 102
Santa Monica, CA 90405
USA

+1-310-566-8995

Mastering for Home

2130 N Hollywood Way
Burbank, CA 91505
USA

+1-818-526-3000

Mastering for Home

6344 Fountain Ave.
Hollywood, CA 90028
USA

+1-323-466-7663

Mastering for Home

3475 Cahuenga Blvd.
West Hollywood, CA 90068
USA

+1-323-851-3000

Mastering for Home

Different By Design
12233 W. Olympic Blvd. #158
Los Angeles, CA 90064
USA
+1-310-510-6658

Mastering for Home

3601 West Alameda Ave.
Burbank, CA 91505
USA

+1-818-823-2800

Mastering for Cinema and Home

20000 Mariner Ave.
Suite 300
Torrance, CA 90503
USA

+1-310-781-1101

Mastering for Home

1144 N. Las Palmas Ave.
Hollywood, CA 90056
USA

+1-323-463-7041

Mastering for Home

962 N. La Cinega Blvd.
Los Angeles, CA 90069
USA

+1-323-817-1300

Mastering for Home

50 West 2nd Ave.
Vancouver, BC V5Y1B3
Canada

+1-604-872-7000

Mastering for Home

2211 N. Hollywood Way
Burbank, CA 91505
USA

+1-818-559-7200

Quality Control for Home

4212 Santa Monica Blvd.
Los Angles, CA 90029
USA

+1-323-661-0391

Mastering for Home

Filmworkers

3400 Carlisle St. Suite 105.
Dallas, TX 75204
USA

+1-214-754-9333
Mastering for Home

3723 W. Olive Ave.
Burbank, CA 91505
USA

+1-818-650-2050

Mastering for Home

2801 W Alameda Ave.
Burbank, CA 91505
USA

+1-818-846-3101

Color Grading and Master QC for Home

10900 Ventura Blvd.
Studio City, CA 91604
USA

+1-323-969-8822

Mastering for Home

3900 W. Alameda Ave. Suite 1700
Burbank, CA 91505
USA

+1-818-526-5098

Color Grading, Mastering and Master QC for Home

4111 W. Alameda Ave.
Burbank, CA 91505
USA

+1-818-738-7000

Color Grading and Master QC for Home

2901 W Alameda Ave.
Burbank, CA 91505
USA

+1-818-840-7200

Mastering for Home

6381 De Longpre Ave.
Los Angeles, CA 90028
USA

+1-323-472-8300

Mastering for Home

Lightbender

1850 Veteran Ave.,
Los Angeles, CA 90025
USA

+1-818-370-5849

Mastering for Home

4221 Redwood Ave.
Los Angeles, CA 90066
USA

+1-310-822-1500

Mastering for Home

Magical Elves

6255 Sunset Blvd. #1600
Los Angeles, CA 90028
USA

+1-323-460-4030
Mastering for Home

6838 Romaine St.
Los Angeles, CA 90038
USA

+1-323-962-6565

Mastering for Home

174 14th St. 2nd Floor
San Francisco, CA 94103
USA

+1-415-839-7456

Mastering for Home

Mom & Pop

3617 Hayden Ave. Suite 101,
Culver City, CA 90232
USA

+1-213-458-7076

Mastering for Home

8921 Lindblade St.
Culver City, CA 90232
USA

+1-310-526-5800

Mastering for Home

1016 N Sycamore Ave.
Hollywood, CA 90038
USA

+1-323-465-6478

Mastering and Quality Control for Home

527 W. State St. #103
Pleasant Grove, UT 84062
USA

+1-303-910-1394

Mastering for Home

2660 West Olive Ave.
Burbank, CA 91502
USA

+1-818-295-8039

Mastering for Home

3900 W. Alameda Ave. 10th Fl.
Burbank, CA 91505
USA

+1-818-855-SHOP

Mastering for Home

4000 W Alameda Ave.
Burbank, CA 91505
USA

+1-818-861-2001

Mastering for Cinema and Home

2700 South La Cienega Blvd.,
Culver City, CA 90034
USA

+1-310-879-0743

Mastering for Home

Product Factory

2725 W. Burbank Blvd.
Burbank, CA 91505
USA

+1-818-567-0010

Mastering for Home

Propagate Content

1640 S. Sepulveda, Suite 300.
Los Angeles, CA 90025
USA

+1-323-430-5200
Mastering for Home

3000 Olympic Blvd. Suite 1100
Santa Monica, CA 90404
USA

+1-310-570-6463

Mastering for Home

217 S. Lake St.
Burbank, CA 91502
USA

+1-818-842-9300

Mastering for Home

1017 North Las Palmas Ave.
Hollywood, CA 90038
USA

+1-323-978-9000

Mastering for Home

7165 Sunset Blvd.
Hollywood, CA 90046
USA

+1-323-969-9333

Mastering for Home

Stampede Post

816 North Highland Ave.
Hollywood, CA 90038
USA

+1-323-463-8000

Mastering for Home

16255 Ventura Blvd. #625
Encino, CA 91436
USA

+1-818-570-7267

Mastering for Home

2815 Manor Rd. Suite 202
Austin, TX 78722
USA

+1-512-772-1552

Mastering for Home

6040 Sunset Blvd.
Los Angeles, CA 90028
USA

+1-323-817-6600

Mastering for Cinema and Home

15 E. 4th Ave.
Vancouver, BC V5T 1E9
Canada

+1-604-689-1090

Mastering for Cinema and Home

111 North First Street, 3rd Floor
Burbank, CA 9150
USA

+1-818-845-3223

Mastering for Home

2911 W. Olive Ave.
Burbank, CA 91505
USA

+1-818-646-7844

Mastering for Home

Union Editorial

12200 W. Olympic Blvd. #140
Los Angeles, CA 90064
USA

+1-310-481-2200

Mastering for Home

100 Universal City Plaza
Universal City, CA 91608
USA

+1-818-777-0169

Mastering for Home

610 N Hollywood Way
Burbank, CA 91505
USA

+1-818-558-3363

Mastering for Home

4000 Warner Blvd. Bldg. 38
Burbank, CA 91522
USA

+1-818-954-1839

Mastering for Home

Wild Woods Inc.

3575 W. Cahuenga Blvd. #400
Los Angeles, CA 90068
USA

+1-323-878-0400

Mastering for Home

380 W. 5th Ave.
Vancouver, BC V5Y 1J5
Canada

+1-604-684-2363

Mastering for Home

39 Mesa Street - Production Suite One
San Francisco, CA, 94129
USA

+1-415-788-7900

Mastering for Home
North America - East
COMPANY

ADDRESS

PHONE

SERVICE

218 W. 18th Street
New York, NY 10003
USA

+1-212-687-4000

Mastering for Home

1111 East West Highway, 3rd Floor
Silver Spring, MD 20910
USA

+1-240-450-1582

Mastering for Home

901 King's Street West, Suite 700
Toronto, ON M5V3H5
Canada

+1-416-364-4321

Mastering for Home

2101 Saint-Catherine St.
Montreal, QC H3H 1M6
Canada

+1-514-939-5060

Mastering for Home

135 W 20th St. 5th Floor
New York, NY 10011
USA

+1-646-760-5509

Quality Control for Home

150 W 22nd St.
New York, NY 10011
USA

+1-212-691-2580

Mastering for Home

799 Washington St.
New York, NY 10014
USA

+1-212-243-4700

Mastering for Home

185 Varick St.,
New York, NY 10014
USA

+1-212-209-7688

Mastering for Home

80 River St. Suite 5.5
Hoboken, NJ 07030
USA

+1-732-589-9703

Mastering for Home

Irving Harvey

368 Broadway
New York, NY 10013
USA

+1-212-227-6468

Mastering for Home

Left Right TV

39 W. 19th St.
New York, NY 10011
USA

+1-301-633-3471

Mastering for Home

580 Broadway
New York, NY 10012
USA

+1-212-775-0020

Mastering for Home

74 Fraser Ave. Suite 100
Toronto, ON M6K 3E1
Canada

+1-416-646-2711

Mastering for Home

1600 Boulevard de Maisonneuve Est
Montréal, Québec H2L4P2
Canada

+1-514-879-0020 x 3297

Mastering for Home

621 North Ave. NE, Suite C-170
Atlanta, GA 30308
USA

+1-404-341-1234

Mastering for Home

Outpost NY

435 Hudson St.
New York, NY 10014
USA

+1-212-520-3000

Mastering for Home

435 Hudson St. Floor 7
New York, NY 10014
USA

+1-212-609-9400

Mastering for Home

26 Soho St.
Toronto, ON M5T 1Z7
Canada

+1-416-306-6400

Mastering for Home

49 Ontario St.
Toronto, ON M5A 2V1
Canada

+1-416-585-9995

Mastering for Home

1610 Midtown Pl.
Raleigh, NC 27609
USA

+1-919-696-3939

Mastering for Home

39 W. 19th St. Floor 8
New York, NY 10011
USA

+1-646-395-7200

Mastering for Home

22 Boston Ave.
Toronto, ON M4M 2T9
Canada

+1-416-203-6655

Mastering for Home
Europe
COMPANY

ADDRESS

PHONE

SERVICE

Krebsgasse 5-11
Cologne, 50667
Germany

+49 221/925 489-0

Mastering for Home

Alfonsin Digital

Rúa Agrelo 10, Local 11
Bertamiráns, 15220
Spain

+34 629 89 46 66

Mastering for Home

Carrer del Rosselló, 34
Barcelona, 08029
Spain

+34 931439044

Mastering for Home

101 Portman Street, 1st Floor
Glasgow, G41 1EJ
Scotland

+44 (0) 141 406 5000

Mastering for Home

Viborggade 70D
Copenhagen, 2100
Denmark

+45 3311 0330

Mastering for Home

Arthaus Building
199-205 Richmond Rd
London, E8 3NJ
UK

+44 (0) 2085 251 411

Mastering for Home

Skeppsbron 38
Stockholm, 11130
Sweden

+46 858750500

Mastering for Home

142 Wardour St
London, W1F 8DD
UK

+44 20-7878-7888

Mastering for Cinema and Home

210 Broadway
MediaCity
Salford, M50 2UE
UK

+44 161 3009600

Mastering for Home

75 Dean Street
London, W1D 3PU
UK

+44 (0)207 432 3903

Mastering for Cinema and Home

Calle de Miguel Fleta, 5
Madrid, 28037
Spain

+91-725-36-07

Mastering for Home

ul. Dominikańska 9, bud. 3
Warsaw, 02-738
Poland

+48 887 807 800

Mastering for Home

Gotzkowskystr 20
Berlin, 10555
Germany

+49 30 81452350

Mastering for Home

Jülicher Str. 26
Cologne, 50674
Germany

+49 221 570950

Mastering for Home

Steinhöft 11
Hamburg, 20459
Germany

+49 40 21988220

Mastering for Home

Bavariafilmplatz 7, Grünwald
Munich, 82031
Germany

+49 89 6499 3332

Mastering for Home

Waisenhausring 9
Halle (Saale), 06108
Germany

+49 345 21 75-0

Mastering for Home

The Studios, MediaCityUK
Manchester, M50 2HQ
UK

+44 161 886 5111

Mastering for Home

4-6 Soho Square
Soho
London, W1D 3PZ
UK

+44 (0)207 406 3200

Mastering for Home

12 Golden Square
London, W1F 9JE
UK

+44 (0)20 3802 1280

Mastering for Home

C/ Genova 21 4º Dch
Madrid, 28004
Spain

+34 91 319 72 30

Mastering for Home

C/ Amparo, 103
Madrid, 28012
Spain

+34 91 821 60 72

Mastering for Home

142 Wardour Street
London, W1F 8DD
UK

+44 207 149 2000

Mastering for Cinema and Home

50A Rathbone Place
London, W1T 1JW
UK

+44 208 962 2600

Mastering for Home

59 Cotham Hill
Bristol, BS6 6JR
UK

+44 117 906 4300

Mastering for Home

Via Fiore Dei Liberi 90
Premariacco, 33040
Italy

+39 3928478400

Mastering for Home

Wita Stwosza 36
Warsaw, 02-661
Poland

+48 662 250 030

Mastering for Home

Viale Bruno Buozzi 64 – 00197
Rome, 00197
Italy

Mastering for Home

Via Valadier, 42
Rome, 00193
Italy

+39 06 5964941

Mastering for Home

Gloworks, Porth Teigr Way
Cardiff, CF10 4GA
UK

+44-29-2245-0100

Mastering for Home

25 Noel Street
London, W1F 8GX
UK

+44 20 7292 8000

Mastering for Home

Imaj

Esentepe Mahallesi Hikaye Sokak No:9, Şişli
İstanbul, 34394,
Turkey

+90-212 2167180
Mastering for Home

Via Ludovico di Savoia, 4
Rome, 00185
Italy

+39 06 7096291

Mastering for Home

200 Grays Inn Rd
Holborn
London, WC1X 8XZ
UK

+44 20 7833 3000

Mastering for Home

Via Flaminia, 999
Rome, 00189
Italy

+39 06 41 71 19 00

Mastering for Home

C/ Principe, nº12, 6ºA
Madrid, 28012
Spain

+34 629452308

Mastering for Home

1 Place Boieldieu
Paris, 75002
France

+33 1 53 95 15 55

Mastering for Home

Kaiser-Friedrich-Ring 56
Wiesbaden, 65185
Germany

+49 (0) 611 932096-0

Mastering for Home

Oldřichova 859/36
Prague, 12800
Czech Republic

+420 222 990 299

Mastering for Home

34 Fouberts Place
London, W1F 7PX
UK

+44 (0) 20 7478 7000

Mastering for Cinema and Home

Calle Alegre de Dalt, 55 1ºD
Barcelona, 08024
Spain

+34 93 174 10 76

Mastering for Home

Pinewood Studios
Iver Heath
Pinewood, SL0 0NH
UK

+44 (0)7837 421317

Mastering for Home

Joop van den Endeplein 1
Hilversum, 1200 AG
The Netherlands

+31 357731500

Mastering for Home

Tagensvej 85 D
Copenhagen, 2200
Denmark

+45 3587 7777

Mastering for Home

Waterloohain 6-8
Hamburg, 22769
Germany

+49 40 51 110 51

Mastering for Home

Landsbergerstrasse 146 Rgb
Munich, 80339
Germany

+49 89 45237873

Mastering for Home

Oberst-Lepperdinger-Straße 11 - 15
Wals near Salzburg, 5071
Austria

+43 (0662) 2240 - 0

Mastering for Home

Via Marcello Prestinari, 15
Rome, 00195
Italy

+39 06 324 0450

Mastering for Home

Plattenstrasse 44
Zürich, 8032
Switzerland

+41 79 382 41 21

Mastering for Home

Av. de España, 1,Tres Cantos
Madrid, 28760
Spain

+34 913 717 569

Mastering for Home

Serious Facilities

11 Merryland St, Govan
Glasgow, G51 2QF
UK

+44 141 440 6940

Mastering for Home

28-32 Lexington St
Soho
London, W1F 0LF
UK

+44-20-7319-4900

Mastering for Cinema and Home

58-62 Newman Street
London, W1T 3EE
UK

+44-20-7437-6677

Mastering for Home

66-68 Margaret St
London, W1W 8SR
UK

+44 (0)207 287 5313

Mastering for Home

Hornsgatan 174
Stockholm, 11734
Sweden

+46 70 405 77 77

Mastering for Home

Gufunesvegur 12
Reykjavík, 112
Iceland

+354 416 0400

Mastering for Home

316-318 Latimer Rd.
London, W10 6QN
UK

+44 20 8962 2600

QC and Authoring

Wash

78-79 Long Ln, Barbican
London, EC1A 9ET
UK

+44 20 7112 8751

Mastering for Home
China
COMPANY

ADDRESS

PHONE

SERVICE

Xuhui District
Chuanchang Road
3rd floor, No. 99
Shanghai, 200023
China

+86-21-54591532

Mastering for Home

Minhang District Chengjiaqiao
Road 168 Lane 39
Room 210
Shanghai, 201100
China

+86-021-64200691

Mastering for Home

Unit B1 No. 39 Shenlu Street
Chaoyang District
Beijing, 100016
China

+86-010-62062811

Mastering for Home

Unit 1-2, 7/F., Sino Ind. Plaza
9 Kai Cheung Road
Kowloon Bay
Hong Kong SAR

+852-2338-6111

Mastering for Home

No. 25, Xinwai Street
Haidian District
Beijing, 100088
China

+86-10-6203-5305

Mastering for Home

Chinese Entertainment

18th Floor, Building 2
Damei Center
No. 7 Qingnian Road
Chaoyang District
Beijing, 100015
China

+86-10-8565-5758

Mastering for Home

Room 1201, 12F
No. 380, Xinsong Road
Minhang District
Shanghai, 201100
China

+86 21 62961065

Mastering for Home

Galaxy

No.100 Wenquan Road
Haidian District
Beijing
China

+86-10-8202 6225

Mastering for Home

Area A, East Art Campus, 319-1
CaoChangDi Rd
Chaoyang District
Beijing
China

+86-138-1038-0807

Mastering for Home

RM 1601-3, 16/F Prosperity Center
25 Chong Yip Street
Kwun Tong
Hong Kong

+852 2391 3388

Mastering for Home

Inster
2F, Building 1, Wenxin Huace Center
No.2 Jiangtai W Rd
Chaoyang, Beijing
China
+86-10-8431-6341

Mastering for Home

Haidian North First Street
2 Iqiyi Innovation Building
11th floor
Beijing, 100080
China

+86-10-6267-7171

Mastering for Home

MaiSongLiWei (Shanghai)

A9-6, QiKeShu Creative Park
No.55 Banjieta Road
Chaoyang District
Beijing, 102399
China

+86-10-5352-6029

Mastering for Home

C9-12, Seven Trees Creative Campus
55# Banjieta Rd
Chaoyang District
Beijing, 100016
China

+86-138-1060-3121

Mastering for Home

MOGO Film

No. 93 CaoChangDi
Beijing, 100015
China

+86-10-6436-8806

Mastering for Home

No.1018, East Sanli Qiao Rd.
Shanghai, 200125
China

+86-21-60897266

Mastering for Home

Building 6
MaoLong Culture Garden
Chaoyang District
Beijing, 100022
China

+86-186-0001-8656

Mastering for Home

Room 101
Building E, 751 D-Park
NO.4 JiuXianQiao Road
Beijing, 100015
China

+86-10-8459-9701

Mastering for Home

Office 410A
Dongxing Business Building
No. 65 Dongxing North Rd.
Yuexiu District
Guangzhou
Guangdong Province, 510030
China

+8620 31653937

Mastering for Home

SanGui Media

No. 2 Building
3rd Yuan
Dongfeng Arts District, Jiangtai Rd.
Beijing
China

+86 10 84305656

Mastering for Home

Building B No.246 GuangYan Rd.
Shanghai, 200072
China

+86-021-56773377

Mastering for Home

TopWorks

B36C Jiuxianqiao Road
Chaoyang district
Beijing, 100017
China

+86-10-51266611

Mastering for Home

Area D,5F
Building A
Sinosteel International Plaza
No. 8 HaiDian Street
Haidian District
Beijing, 100089
China

+86 10-58851881

Mastering for Home

No. 116
Huangshanmudian Village
PingFang Town
Chaoyang District
Beijing, 100024
China

+86-10-8069-8011

Mastering for Home
Asia Pacific
COMPANY

ADDRESS

PHONE

SERVICE

Bld 54/FSA #19
Fox Studios 38 Driver Ave.
Sydney, NSW 2021
Australia

+61 2 9383 4800

Mastering for Home

Annapurna Studios

Road No.2, Banjara Hills
Hyderabad
India

+91 9177857575

Mastering for Home

Lot 3A, 3rd Floor
Plaza Flamingo, No.2
Tasik Ampang
Jalan Hulu Kelang 68000 Ampang
Selangor Darul Ehsan
Malaysia

+603 4256 0998

Mastering for Home

Level 1, Building 61
Fox Studios
38 Driver Ave.
Moore Park
NSW 2021
Australia

+61 (02) 9078 7680 / 0499 982 020

Mastering for Home

Capital Studio

212 Ly Chinh Thang street, Ward 9
District 3 - Hochiminh City
Vietnam

+84 2871087775

Mastering for Home

Building 53a, FSA
38 Driver Avenue
Moore Park
NSW 2021
Australia

+61-414-745-315

Mastering for Home

1/145 Devonshire St.
Surrey Hills
Sydney 2010
Australia

+61 28322 4942

Mastering for Home

6th Floor, Blue Wave
Off New Link Road
Abdheri
Mumbai 400053
India

+91 22 4014 5000

Mastering for Home

Higashigotanda 2-14-1
Shinagawa-ku
Tokyo, 1410022
Japan

+81-3-3280-7500

Mastering for Cinema and Home

Shuwa Yoyogi Ekimae Bldg. 4F 4-26-15
Sendagaya Shibuya-ku
Tokyo, 151-0051
Japan

+81-3-3478-0521

Mastering for Home

Nikkatsu Corporation Nikkatsu Chofu Studio
2-8-12 Somechi, Chofu-shi,
Tokyo, 182-0023
Japan
+81-42-483-1511

Mastering for Home

7-9-11
Akasaka
Minato-Ku
Tokyo, 107-0052
Japan

+81-3-6229-0601

Mastering for Home

141 Park Road
Miramar
Wellington, 6022
New Zealand

+64 49097800

Mastering for Cinema and Home

6-14-15 Akasaka,
Minato-ku
Tokyo 107-0052
Japan

+81-3-3589-2403

Mastering for Home

10/88 Macquarie St.
Teneriffe, QLD 4005
Australia

+61 7 3151 1206

Mastering for Home

Meguro Tokyu Building
2-13-17 Kamiosaki
Shinagawa-ku
Tokyo, 141 0021
Japan

+81-3-5792-9300

Mastering for Home

2-13-19, Jingumae
Shibuya-ku
Tokyo, 150-0001
Japan

+81-3-3470-6621

Mastering for Home
Central and South America
COMPANY

ADDRESS

PHONE

SERVICE

Caracol Televisión
Calle 103 N
Bogotá, 69B-43
Columbia


+57 1643 0430
Mastering for Home
Cinecolor Mexico

Pedro Sainz de Baranda No. 139-F
Col. Avante
Mexico City, 4460
Mexico

+52 5556777100
Mastering for Home
Quanta Post (Brazil)

Rua Mergenthaler, 1000 - Vila Leopoldina
São Paulo, 05313-030
Brazil


+55 11 2164-3420
Mastering for Home
Bleach Post

Av Imperatriz Leopoldina 957, cj 2108
Sao Paolo, 05305-001
Brazil

+55 11 3835-8260

Mastering for Home

Mazatlan 20 - 101 - Condesa
Mexico City, 6140
Mexico

+52 55 8582-6945

Mastering for Home

Rua Bauman, 930 Via Leopoldina
Sao Paolo, 05318-000
Brazil

+55 11 3839 9400

Mastering for Home
Middle East and Africa
COMPANY

ADDRESS

PHONE

SERVICE

ColorVision
3, HaMelacha Street
Tel Aviv, 6721503
Israel
+972 54 4441407

Mastering for Home

Katara Studios

Katara, Building 11,
P.O. Box 12180
Doha
Qatar


+974-4408-0888

Mastering for Home

Mushroom Media

Stonewedge Office Park,
1 Wedgewood Link Road
Bryanston
Johannesburg 2031
South Africa


+27 11 463 1445

Mastering for Home

Opus Post Production
Expo TLV, 101 Rokach Blvd.
Tel Aviv, 6121002
Israel
+972 54 2288227

Mastering for Home

TwoFour54
Sheikh Zayed Street,
Opposite Khalifa Park,
Abu Dhabi
U.A.E.
+971 2 401 2454

Mastering for Home