Dealer Testimonial — American Cinema Equipment
{{ videoLinkButton.text }}
{{ videoLinkButton.text }}
Commitment to small business
With its headquarters in Oregon, American Cinema Equipment is the nation's premiere resource for movie theater equipment design, supply and service, with its main focus being on small- and medium-sized exhibitors. Patty Boucher has been the owner of American Cinema Equipment since 2015. Her team is deeply committed to helping small exhibitors thrive and count a huge number of small exhibitors among their customers — something they pride themselves on.
But the biggest challenge they face, especially now when there is a lack of certainty in the industry, is marrying the best technology with tight budgets. American Cinema Equipment wants to help small businesses make the right choices to help them succeed. Bundled to provide considerable cost savings, Dolby Auditorium Packages come with an optional low-cost extended warranty.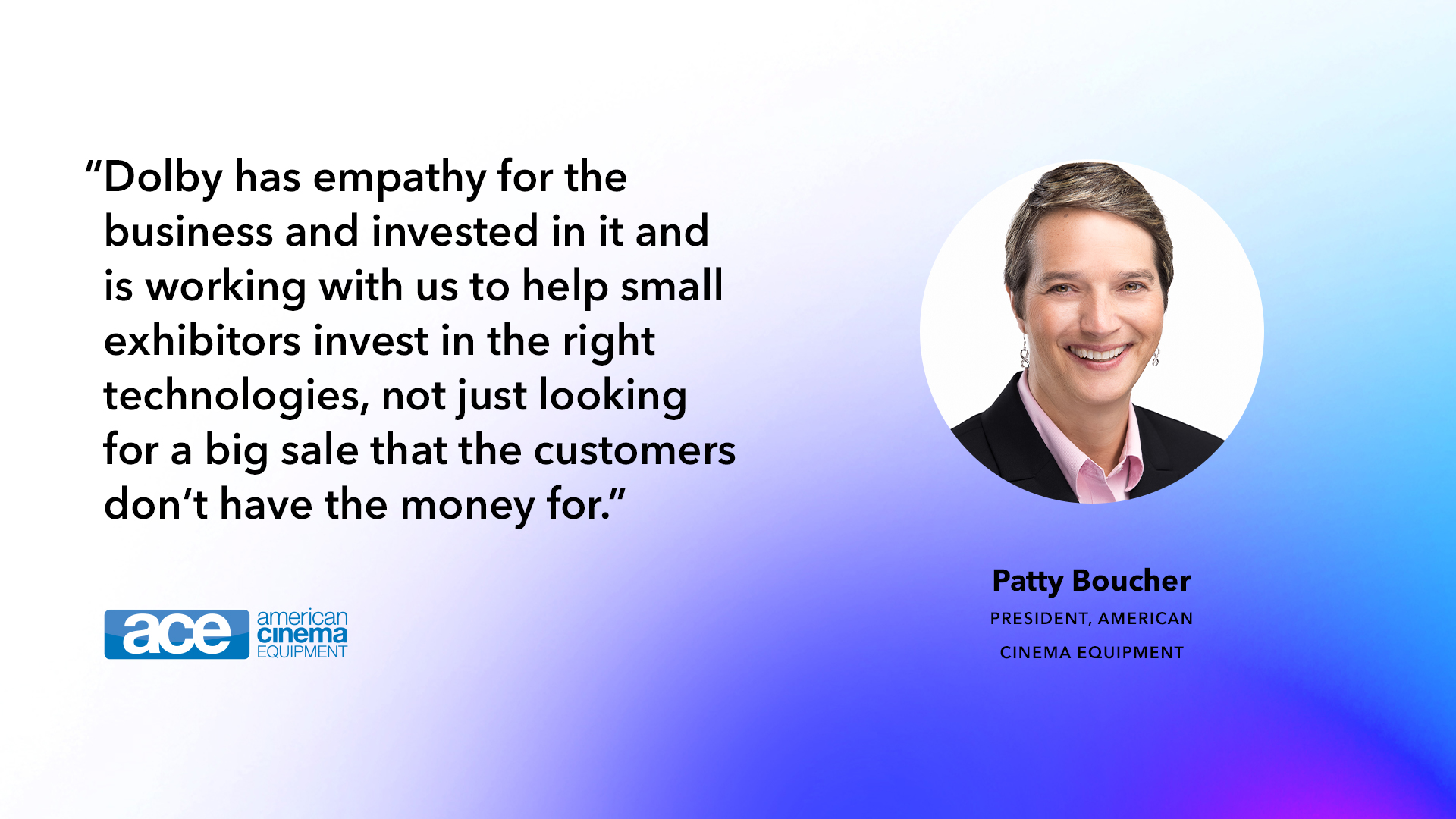 Patty feels that Dolby has been a great partner in their mission to help small businesses thrive. "This past year has been very different for all of us. Dolby has empathy for the business and invested in it and is working with us to help small exhibitors invest in the right technologies, not just looking for a big sale that the customers don't have the money for."
Minimizes downtime for exhibitors with reliable solutions
Patty's team believes that Dolby has helped them built trust with small exhibitors through reliable solutions and an honesty about the product's capabilities.
Reliability is key for smaller players, a single night down is a big hit to their bottom lines. Because of this, Dolby has been working with them on a trade-in program to pull less reliable solutions. Dolby's products are quality tested in their own engineering labs, and in multiple configurations, to ensure the highest quality and dependability. Thanks to this, Patty's team has built a loyal customer base who ask for Dolby products and solutions by name.
"Dolby isn't the cheapest option, and we tell our customers that in the long run, just losing one show will make up for the savings you would have realized with the cheaper options. Saving one show will make up for the little bit of price difference and save their reputation as a theater. You don't want to be the theater with a lot of downtime, which creates bad Yelp reviews."
"We have quite a few loyal Dolby customers who want nothing but Dolby products which is a testament to the product line, quality, and support. When we install an IMS3000, we know the customer will likely not have any downtime or issues which causes them lost revenue. The exhibitors are seeing the longevity and uptime of the product and are pleased with their equipment choice."
The Dolby Difference that brings people to theaters
As moviegoers increasingly value a unique experience over content, American Cinema Equipment has also been recommending Dolby Atmos to help exhibitors give people unforgettable experiences. Patty's team realizes that Dolby Atmos is a brand moviegoers recognize and choose theaters they go to based on the differentiated experience that Dolby Atmos provides. The exhibitors they work with are focused on upgrading their entertainment experience to become the preferred theater. Dolby Atmos is an added advantage in setting themselves apart from other competitors. Consumers are becoming more knowledgeable about technology and are willing to pay more if it means a better experience. With streaming services so prevalent, exhibitors know people are looking for something special when they venture out to the theater and that investing in technology will help them provide that spectacular experience.
Support and training for dealers to set them up for success
As a business, American Cinema Equipment also chooses Dolby because of the support their sales team gets in terms of education. Dolby's focus on keeping dealers trained and up to date on their product line helps them choose the right solutions for their customers with confidence.
"We have a very long history with Dolby — since the company was founded. The support we get, we feel like a valued dealer not just someone who sell boxes for Dolby. The support that Dolby provides, especially during roll out, they want the dealer to be a part of it — they don't want to just get the deal, we get full support and good quality."