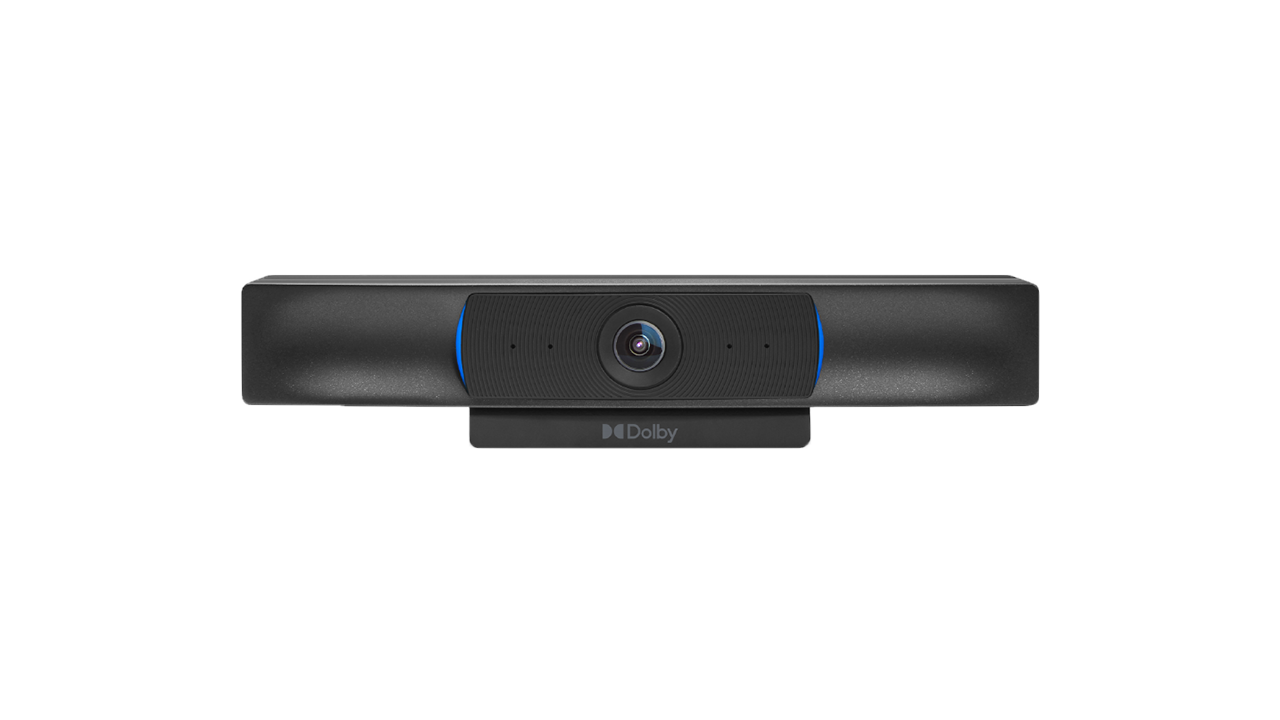 Huddle
Designed for huddle spaces
The newest product in the Rooms with Dolby Voice portfolio, Dolby Voice Huddle is designed specifically for overcoming the challenges of video meetings in huddle spaces, with industry-leading design and technology packed into a tiny footprint that easily blends into the smallest meeting room.
Seamless integrated with leading service providers, it adapts to rooms, minimizes the equipment needed and delivers a natural meeting experience — all in an affordable solution with free enterprise management tools.
Huddle integrates a high-quality camera, microphone array, and processing into one compact device that optimizes the audio output from any TV or soundbar.
Touchscreen controller displays calendar and meeting controls to make joining and managing meetings easy.
Connect the optional satellite mic to provide optimum audio output in rooms with challenging acoustics.
Also included in the box: wall mounting bracket, HDMI cable, 90 degree HDMI adapter, ethernet cable, power supply.
Where to get Huddle
Service providers
Equipment providers
Specifications
Camera
4K Image Sensor
1/1.8" CMOS
Horizontal Field of View: 110°
Lens: Fixed focus, f/1.8 aperture
HDR video mapping
EPTZ capable
Video
Output Resolution: 1080p
Frame Rate: 30 fps
Codecs: H.264 Baseline and High Profile, VP8
Audio
Features: Full duplex, noise suppression, acoustic echo cancellation, voice separation, spatial mic array
Codecs: DVC-2/G.711a/G.711u/G.722/G.729ab/Opus
Audio range: Super wideband, 160Hz – 16kHz
Microphone range: 4.5m (15ft)
Audio output through HDMI
Platform features
OS: Linux
Monitor support: Single HDMI output to TV
Content sharing: HDMI input — wireless sharing through partner apps
USB: USB 3.0 host ports (x2)
Wi-Fi and BLE
Network: 10/100/1000 Mb (RJ-45) network interface
Kensington lock
Supports tripod mounting
Network provisioning
IP address configuration: TCP/IP (IPv4), DHCP/static IP
HTTP/HTTPS web interface for administration
Web proxy auto-detection and proxy auto-configuration
Time and date synchronization: SNTP
VLAN support: Dolby Voice and IP telephony calls on separate voice and data VLANs
QoS support: IEEE 802.1p/Q tagging (VLAN)
Layer 3 TOS and DSCP RTCP support: (RFC 1889)
LDAP directory support
Plug-and-play provisioning enabled by Dolby Voice Conferencing Console cloud provisioning service
SIP and WebRTC Support
Incoming and outgoing calls
Call hold/resume, call transfer and call waiting
3-way conferencing, merge and split
Directory and call history with one touch dialing
Support SIP/BFCP for content sharing interoperability
Communications protocols: IETF SIP (RFC 3261 and companion RFCs)
SIP Video Conferencing
WebRTC
Security
Encryption: TLS (Transport Layer Security) for SIP, SRTP encryption for media, 128 bits AES
Network Access Control: IEEE 802.1x
Built-in certificate
Development
Chromium Web App SDK